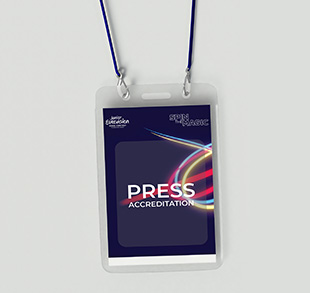 28.11.2022
Accreditation timeline
Applications for media accreditation can be made until 21:00 on Friday 2 December 2022. All applications will be reviewed before 17.00 on Monday 4 December.
You will be notified by email if your application has been Approved or Declined.
Please note that capacity inside the Press Centre is limited and priority for accreditation will be given to media with the highest reach.


Who can apply?
bona fide representatives of media outlets, such as journalists, photographers, camera and sound crews, bloggers and vloggers;
bona fide representatives of media outlets which have a broad reach within society on various channels (tv, radio, online and print, international news agencies);
representatives of (inter) national fan community outlets.
The applications will be reviewed by the EBU and AMPTV.
Please ensure that the correct contact details and the details of your manager are included in your application form in case there are any problems with the application.
Before applying
When filling out the application form, each applicant must assign themselves within a relevant media type and role and provide details of their outlet's reach. Please ensure you submit these details carefully, as invalid or false submissions will not be processed.
Without prejudice to the continued respect of the JESC Reporting Access Rules:
By applying for accreditation you accept that you are strictly prohibited from recording and/or transmitting and/or making available (on any media, including, without limitation, the Internet, social media and mobile devices such as mobile telephones and computers) any images or sounds from Rehearsals and the Live Show (including any such images or sounds from any of the screens on the JESC's premises) from the Press Centre or any other area in the Venue, whether directly or incidentally.
For sake of clarity, journalists are also prohibited from:
live streaming any video/audio content including any images or sounds from Rehearsals and the Live Show (including any such images or sounds from any of the screens on the JESC's premises) whether directly or incidentally to video/audio online platforms (including but not limited to on your own websites, YouTube, TikTok, Instagram, Facebook, Twitch, Twitter, etc) during times when Rehearsals or the Live Show are in progress;
publishing afterwards any such video/audio content, deliberately or inadvertently, containing content from the Rehearsals and Live Show that may have been recorded in the Press Centre Working Area or any other area in the Venue without prior written permission from the EBU;
directly monetizing any content related to your attendance at the Event, whether in the Press Centre or in any other part on the Venue at any time, via instant revenue streaming features such as YouTube's Super Thanks, Tiktok's LIVE Gifts, etc.
Please consult the JESC Reporting Access Rules (when available) regarding the publication of any other content from any open Rehearsals obtained front of stage.
How to apply?
You can apply for accreditation by visiting: http://ebu.eventgo.se.
Accreditation Centre
Should you be granted accreditation you can collect it from the Accreditation Centre at the Karen Demirchyan Sports Complex (Tsitsernakaberdi zbosaygi 1, Yerevan 0028). The Centre is expected to be open between 10.00 and 18.00 daily.
Press Centre
The Press Centre will only be open from Thursday 8 December until a few hours after the Live Show on 11 December 2022.
Opening hours for the Press Centre will be published shortly.
Press Conferences
There will be one press conference featuring all of the artists on Saturday 10 December. Timing to be confirmed.
Further press conferences will be announced onsite in due time. All press conferences will be available to watch on the official Junior Eurovision YouTube channel and within the Press Working Area.
Opening Ceremony
The Opening Ceremony on Monday 4 December is not open to journalists. A small number of photographers can attend the event. They will be contacted directly.
Fan accreditation
There will be no special accreditations for fans. They are invited to buy tickets in order to enjoy the event in person.
Do I need a VISA?
Please refer to Armenia 's official Ministry of Foreign Affairs website to check whether you need a visa to enter Armenia.
By applying for accreditation to the Junior Eurovision Song Contest 2022 you confirm to have read and agreed with the Terms & Conditions.