Misha (Michael Grigoryan)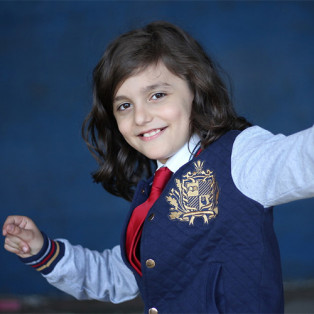 Armenia
Song

Boomerang

Composer(s)

Vahram Petrosyan

Writer(s)

Avet Barseghyan, David Tserunyan, Arthur Aghekyan
Misha (Michael Grigoryan)
Misha was born in 2008 in Artsakh. His father is the conductor of NKR's army orchestra. His mother is a music teacher at the local kindergarten.
Misha studies at Stepanakert's school N3 after A. Griboyedov. He started his musical career when he was only 4 years old. This is when he met his future producer, founder and director of the famous music group "Voices of Artsakh" Lira Kocharyan. Since then, Misha has been an active member of the group, where he started working with industry leading professionals and stars.
Soon Misha began participating in local and international music competitions, returning home with prestigious prizes. He has represented Armenia in several music festivals across Europe, including ones in France, Switzerland, Brussels, Russia and Georgia.
Misha enjoys listening to music, reading and watching cartoons. He loves playing the violin, the piano and the drums. Misha dreams of performing with Robertino Loretti, Stevie Wonder and Bruno Mars.He has already covered songs by Michael Jackson, Sting and James Brown. He has also covered "Lonely day" by System of a Down. Misha's cover version was praised by the group's lead vocalist Serj Tankian and was shared via his social pages.
In 2015 Misha presented his first music video "Poqrik Karabakhtsi" – a song about love and peace, which quickly grabbed people's attention and is still loved among Armenians.
In 2016 Misha represented Armenia at "New Wave Junior" international music competition. His song "Poqrik Karabakhtsi" was one of jury's favorites. As a result Misha ended up as the runner up of the competition. In his acceptance speech he invited everyone to Armenia, to explore its culture and traditions.
In May 2017 Misha appeared in the "Aurora Prize for Awakening Humanity" ceremony's live broadcast, were he, together with other Armenian stars, sang "Ari im sokhak" (famous Armenian lullaby). His gentle voice touched millions of viewers across the world.
In November 2017 Misha will represent Armenia at the Junior Eurovision Song Contest 2017 in Tbilisi, Georgia.