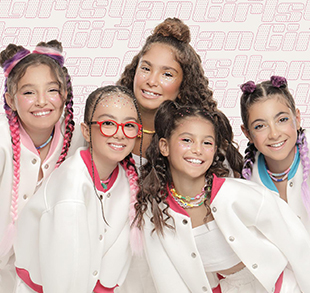 25.10.2023
Yan Girls will represent Armenia in the "Junior Eurovision 2023" Song Contest
Yan Girls will represent Armenia in the "Junior Eurovision 2023" Song Contest with the song called "Do It My Way". Armenia's entry for this year was chosen through a competition announced by the Public TV of Armenia.
In 2023, Nané, Nancy, Kamilla, Syuzanna, and Aida formed the group Yan Girls to participate in the Junior Eurovision Song Contest. Inspired by the legendary K-pop artists, Yan Girls brings the familiar sound to a completely new level with influences from traditional Armenian music elements. Young, colourful, rebellious and poppy, they sing about the importance of staying true to yourself, being confident and doing things the best way – their way. "Do It My Way" was composed by Tokionine, the lyrics are written by Maléna and Vahram Petrosyan - the same team behind JESC 2021 winning song "Qami Qami". The music video is directed by Artur Manukyan.
Nancy is 11 years old. Most of all, she loves singing and painting and is fond of art. Her favourite music genre is Pop. Her favourite music artists are Iveta Mukuchyan, Aram MP3, Dua Lipa, Beyonce, Black Pink, and BTS. Her biggest dream was to represent Armenia in Junior Eurovision.
9-years-old Aida is passionate about singing and dancing. Her favourite music genres are K-pop and Hip-hop, with her favourite groups being BlackPink, Triple Charms, and BTS. In her free time, she loves surfing. She has many dreams – one being the lead actress in a movie, and the biggest one is having her own song and dance studio.
Syuzanna is 10 years old. She sings, dances, plays piano, and does artistic gymnastics. Her best friend is her dog - the first to listen to all her songs.
Kamilla is 11 years old. She has played piano, and drums and has sung since the age of 4. She loves active games and puzzles. In her free time, she builds unique structures with Legos. Her favourite music genre is classical and contemporary pop music.
Nané is 11 years old. She loves to sing and dance and pose for the camera. Her hobby is painting, and she's proud that some of her paintings have been parts of different exhibitions.