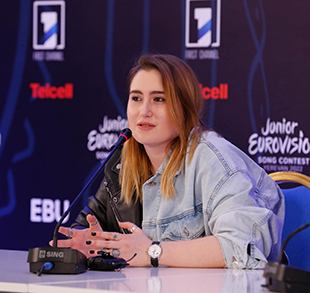 09.12.2022
I was certain that SNAP will be a huge success and I was right.
Today Rosa Linn, the representative of Armenia in Eurovision 2022, gave a press conference at the Press Center of the Junior Eurovision.
"I am so happy I could make it both to the conference and the contest. I am cooperating with the label at this point and, to be honest, it was a challenging task to combine work with my physical presence in Armenia, but taking part in the contest means a lot to me", she said.
Rosa Linn's SNAP is currently the second most streamed Eurovision song on Spotify. "I was sure SNAP will be successful in Eurovision, but it scored its success after the show". Rosa Linn shared some details about the difficulties she had to face after the Eurovision 2022.
"I faced the toughest of times after the show, but it all changed in a couple of days. It was a valuable experience for me. A month later SNAP managed to hit a wave so big I didn't understand how it happened. I am thankful to my friends and family and I'm happy that people gave me the love I needed. If it wasn't for their support, I wouldn't have made it this far".