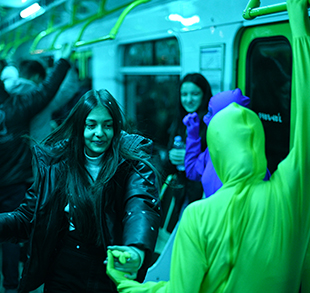 07.12.2022
The magical train of JESC 2022
The magical train transported the participants of JESC 2022 to a fairyland
On December 6th and 7th, representatives of the Junior Eurovision 2o22 took part in a social program, organized by the Public Television of Armenia in Yerevan Metro stations.
The magical train started off from the Republic Square and carried the participants through 4 fairy stations, where the kids had a chance to learn about Armenia's cultural heritage, cuisine, national dances and games, as well as take part in a big Armenian feast.
The Game station welcomed the contestants to try their skill at throwing the spinning top, which is the symbol of this year's Junior Eurovision. They also revelled in the victorious song "Qami-Qami" by the JESC 2021 winner Malena herself.
The Candy station introduced the Magician and the Cook. Children tried the art of baking and helped themselves with lots of sweets.
Next came the Cultural station. Here participants were welcomed by the living paintings of the "Art alive". They witnessed several masterpieces come to life, including "Jajur" by Minas Avetisyan (1960), "A woman with a mirror" by Hakob Hakobyan (1969) and "Scarlet Room" by Jean Carzou (1974).
The last station greeted the passengers of the magical train with a big Armenian feast. They tied their ropes around the Tree of Life and tried the Armenian Ghapama. Several photos of them were taken with Armenian traditional dresses (Taraz).
The goal of the social program is to introduce the heritage of the hosting country, its history and potential with the purpose of attracting more tourists. The special program shot in the stations will soon become a movie.