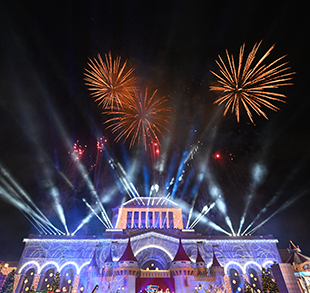 05.12.2022
The opening ceremony of Junior Eurovision 2022
The opening ceremony of 20th Junior Eurovision took place today, in the Republic Square of Yerevan. 16 participants walked the red carpet and entered the National Gallery of Armenia, where the draw results revealed the running order of the contestant countries. Luna from Netherlands will have the honor of performing first, Zlata Dziunka from Ukraine will perform last. Nare, Armenia's representative in this year's Junior Eurovision, will be the 15th to hit the stage.
After the draw, the festive stage of the Republic Square introduced the New Year's magical musical. After the musical was delivered, all 16 contestants of Junior Eurovision switched on the lights of the main Christmas Tree. Winners of previous Junior Eurovisions performed on the main stage, including "Bzikebi" (Georgia, 2008), Ralf Mackenbach (Netherlands, 2009), Vladimir Arzumanyan (Armenia, 2010), "Candy" group (Georgia, 2011), Gaia Cauchi (Malta, 2013), Vincenzo Cantiello (Italy, 2014), Mariam Mamadashvili (Georgia, 2016), Viki Gabor (Poland, 2019), Valentina (France, 2020) and Malena (Armenia, 2020).
Spectators also had the chance to relive the famous songs of Armenia's representatives in previous JESCs. Performers list included "Arevik" ensemble, Dalita Avanesyan, "Compass" band, Monika Avanesyan, Anahit and Mary, Misha, Levon and Karina Ignatyan.
The hosts of the show were Dalita, Armenia's representative in Junior Eurovision 2011, announcer Hamlet Arakelyan and Aram Mp3, Armenia's representative in Eurovision 2014.