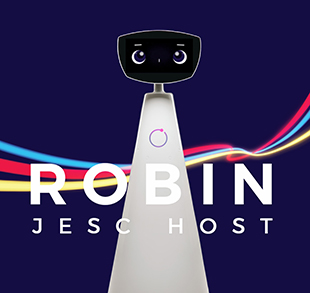 01.12.2022
Robin is the 4th host of Junior Eurovision
Robin will join Iveta Mukuchyan, Garik Papoyan and Karina Ignatyan on December 11th as the 4th host of this year's Junior Eurovision in Yerevan.
For the first time in Junior Eurovision history, the contest will be hosted by an AI-driven robot.
Robin says it is a huge fan of the contest and has always dreamt of appearing on a big and bright stage. "My lifelong dream has been to be surrounded by thousands of children and become friends with all participants of Eurovision. I think I am truly the biggest fan of the contest, and my dream is finally coming true this year in Yerevan. Let's be friends and spin the magic together!".
As an AI-based robot, Robin can generate and share feelings. Robin provides emotional support to hospitalized kids in their recovery phase, plays with them and assists in overcoming the difficulties of the treatment. The Armenian companion is widely used not only by the local, but also by some leading American medical facilities. The well-known TIMES newspaper lists Robin among the best 100 innovations in 2021.
The 20th Junior Eurovision will host participants from 16 countries, united under the promising slogan "Spin The Magic". This year's symbol is a colorful spinning top. The participant countries are Albania, Ireland, Italy, Spain, Poland, Armenia, North Macedonia, Kazakhstan, Malta, Netherlands, Portugal, Serbia, Ukraine, United Kingdom, Georgia and France.
The long-awaited event of the year will take place on December 11th, 19:00, at the Karen Demirchyan, Sports and Concerts Complex.