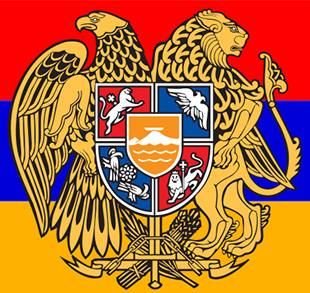 Republic of Armenia
Armenia – Officially known as the Republic of Armenia is located in the South Caucasus region of Eurasia. It is bounded by Georgia on the north, Azerbaijan on the east, Iran on the south, and Turkey on the west.
Armenia is a land of rugged mountains and extinct volcanoes and the highest point is Mount Aragats with 4095M (13,435 ft) height.
Currently total area of Armenia is 29,800 square kilometers (11,505 square miles) with approximate population of 3,344,336. The capital city of Armenia is Yerevan.
During the World War I, on May 28, 1918 Armenia became independent as the First Republic of Armenia. However soon Armenian Republic collapsed and in 1920 the nation was conquered by the Soviet Red Army and Armenia was incorporated into the Soviet Union.
In 1991 when the Soviet Union was dissolved Armenia's independence was officially recognized and in 2016 Armenians will be celebrating the 25th anniversary of the Republic of Armenia.
The national flag of Armenia consists of three horizontal bands of equal width. Three succeeding colors of red on the top, blue in the middle and orange on the bottom was adopted on August 24, 1990. On June 15 Armenians celebrate national Flag Day.
The national coat of arms of Armenia consists of an eagle and a lion supporting a shield. Mount Ararat with Noah's ark on the top is pictured on the shield.
Armenia once included Mount Ararat, which biblical tradition identifies as the mountain that Noah's ark rested on after the flood. It is one of the symbols of Armenia and plays a significant role in Armenian culture.