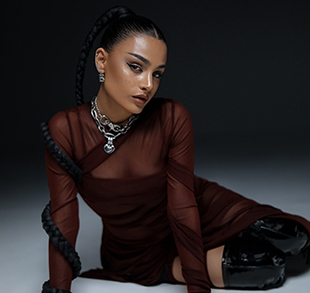 01.02.2023
Armenia's Representative to Eurovision Song Contest 2023 Announced
This year, Brunette will represent Armenia in the Eurovision Song Contest. The decision was made internally by Public TV.
Brunette is known to the public for several hit songs. She intends to bring a new style to the big Eurovision stage.
"I am happy to share the news with you. I just create music, and this time I will share it with the European audience," says Armenia's representative to the Eurovision Song Contest.
Brunette has been singing since she was four and has been writing music since she was fifteen. She has written the music and lyrics to all her songs. Brunette's songs "Night", "Smoke Break" and "Light Blue Eyes" became hits in a short time and have millions of views on YouTube.
Public TV`s Executive Director Hovhannes Movsisyan emphasizes the importance of entrusting young and talented artists with the opportunity to represent Armenia in such contests.
"Last year, sending a young artist to ESC 2023 was justified. The song is still successful and captivates millions of fans. I hope this year we will surprise the European audience with a unique Armenian artist," says Movsisyan.
"A few weeks after organizing the Junior Eurovision in Yerevan, we started the process of selecting our representative for the contest. At this stage, we are working on the song and the video, which I am sure will be impressive," says Davit Tserunyan, the Head of the Armenian delegation to the Eurovision Song Contest.
This year, Eurovision Song Contest 2023 will take place in Liverpool. The semi-finals will take place on May 9 and 11. The final will take place on May 13.