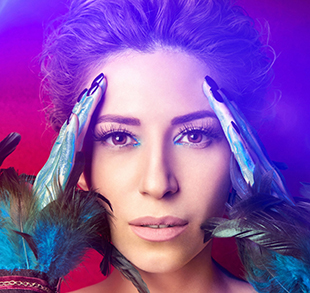 18.03.2017
PREMIERE! ARTSVIK'S "FLY WITH ME" IS OUT TONIGHT!
Photo by Damian Hovhannisyan
"Fly with me" was composed by Lilith and Levon Navasardyan. The lyrics were written by Avet Barseghyan and David Tserunyan.
"When I first wrote for Aram MP3, it was quite challenging for me, as I was new to Eurovision. With Iveta, I was much more confident, but still had a lot to learn. This time, as soon as I heard Artsvik's voice, I knew what to do. Her voice is… diverse, her vocal range is very wide and the color of her voice is unique and beautiful. I tried to capture and pass that sense to everyone who will listen to this song" - says Lilit.
Lyricist Avet Barseghyan says he wanted to create something special for this song. "As any song composed by Lilit, "Fly with me" is extraordinary and experimental, out of this world.
Sometimes I actually believe that Lilit gets her inspiration from another universe. While writing the lyrics, we wanted to share the message that no matter our differences, we have a universal value that unites us all - love" - says Avet.
"The first time we heard the song, Artsvik's unique voice transported us into a fairy word, so we knew that the lyrics had to reflect that. We had written 4 different versions of lyrics and in the end the team and Artsvik chose "Fly with me". The girl in this fairy tale is the metaphoric symbol of love, that embodies our colors, our stories and our voices that make us who we are. The lyrics are light and easy to understand, but they carry a universal message - love is one for all of us" - says co-author David Tserunyan.
The music video was directed by Arthur Manukyan. "This music video is like my own reflection. I was greatly inspired by this song, and I hope that fans and viewers around the world will love it as much as I did" - says Arthur.
The music video was created by DOP Mkrtich Malkhasyan, stylist Aram Nikolyan, choreographer Hovhannes Sargsyan, makeup artist Yana Babajanyan, hair stylists Christina Abrahamyan and Harutyun Julhakyan.