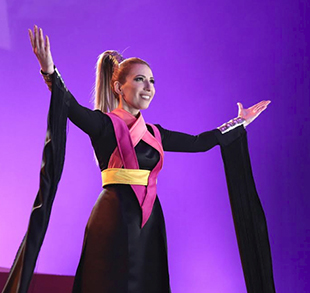 17.03.2017
Hours left before the premiere of Armenia's entry song at Eurovision 2017
Armenia's entry song at "Eurovision 2017" and the music video will premiere tomorrow, March 18, right after "Agenda" main news broadcast. Armenian delegate Artsvik will perform "Fly With Me" song at the first Semi-Final scheduled May 9th, inviting all her fans to join the memorable soaring of an Eagle (Artsvik means an Eaglet in Armenian).
Co-authors of "Fly With Me" song music are Lilith and Levon Navasaryans, lyrics by Avet Barseghyan and Davit Tserunyan.
The melody line is based on peculiarities and similarities of various ethnic music worldwide, and is promoting this year's contest slogan "Celebrate Diversity". The song focuses on the life story of a girl, who embodies the innermost feeling – love, who combines the many colors of life and collects world fairytales and stories that tell us who we are. Combining diversities from around the world the girl flies high in the skies and becomes the sun – common source of love and light to all of us, yet the only one for each of us.
The music video preserves melody line of the song and has stylistically attempted to present various ethnic peculiarities. Thanks to unique performance and light effects and based on the lyrics, music video reflects sun rays that shine providing equal warmth to all of us.
Music video is directed by Arthur Manukyan, cameraman - Mkrtich Malkhasyan, stylist - Aram Nikolyan.