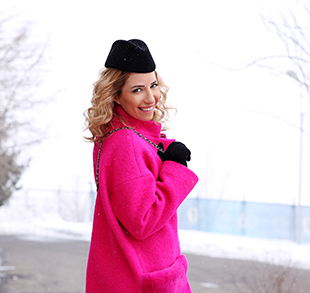 10.02.2017
Artsvik arrives in Armenia to start contest preparatory activities
Armenian delegate at "Eurovision-2017" Song Contest Artsvik has arrived in Armenia to start preparatory activities ahead of the contest.
The song selection stage has now kicked off: the song submitted to the Public TV Company, which best matches the singer's character as well as the contest's general ideology and format, will become the winner.
Our creative team is also participating in the song search and we've pulled in the best of our producers and songwriters who are working on composing modern ballads for Artsvik. One of the most notable of these is our associate UK-based producer, Martin Muradyan. He has an exceptional portfolio working across the UK, Russia and now, he is working for the Armenian delegation, developing collaborative work with the acclaimed Rob Davis (Kylie Minogue's producer) and Gabriel Alares (award-winning Swedish producer) and others.
Artsvik will also perform at a concert tonight near Swan Lake. The concert is devoted to St. Sargis Lovers Day. Another concert is scheduled tomorrow on February 11th, at Lovers' park.
To recap, Armenia's delegate at Eurovision 2017 Song Contest Artsvik will perform at the First Semi Final scheduled on May 9th. At this stage of contest, Armenia will compete with Montenegro, Finland, Georgia, Portugal, Belgium, Sweden, Albania, Australia, Azerbaijan, Cyprus, Slovenia, Moldova, the Czech Republic, Latvia, Iceland, Greece and Poland. The Second Semi Final will be held on May 11, with participation of Germany, France, Ukraine, Macedonia, Malta, The Netherlands, Serbia, Denmark, Russia, Romania, Hungary, Austria, Ireland, Switzerland, Estonia, Israel, Bulgaria, San Marino, Lithuania, Croatia, Norway and Belarus.
The overall number of participating states in "Eurovision 2017" is 43.
The contest slogan for this year is "Celebrate Diversity", based on last year's theme "Come Together".
More details available at www.1tv.am and www.eurovision.am, as well as on social platforms Artsvik, Armenia in Eurovision, Instagram.