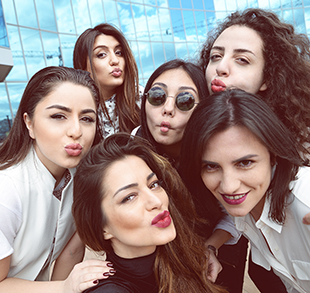 17.04.2016
5 backing vocals will accompany Iveta Mukuchyan at the Eurovision Song Contest 2016
Today the Public TV Company of Armenia has revealed that 5 backing vocals will sing together with Iveta on the big stage in Stockholm. Ivete will be accompanied by 5 beautiful ladies - singers Anushik Ter-Ghukasyan, Masha Mnjoyan (JESC 2008), Christina Mangasaryan, Sona Gyulkhasyan and LoveWave's co-composer herself - Lilith Navasardyan!
While talking about the selection process for the backing vocals, Lilith Navasardyan thanked the participants and said that it was very hard to find the perfect match, as some parts of the song were very challenging for most singers.
"I'm so happy we have found our girls! All of them are very talented. They have great voices that suit this song perfectly. As for me, it was very surprising that I ended up not only creating this song, but also performing it as a backing vocal. I think the decision to include me was made because the draft version of the song was recorded with my voice and It seemed like my voice was always supposed to be there, just like the other instruments" - says Lilith.
"LoveWave is very experimental and that's what I love about it. This wave is taking all of us out of space and time, making us come alive. I'm confident that our song will excite both the audience and the juries" – says singer Anushik Ter-Ghukasyan.
Masha Mnjoyan (JESC 2008) said she was very excited when she first heard LoveWave, as it was something completely different, adding: "LoveWave is such a powerful song. And Iveta is fabulous. I can't wait to see what our team will come up with for the staging."
"I like how this song is both modern and ethnic at the same time. I just love how modern beats blend in with traditional Armenian tunes. And the instrumental part is incredible. I never thought that Armenian zurna could sound so melodiously" – says Christina Mangasaryan.
Sona Gyulkhasyan added that she had only one word when she first heard the song. "I was very excited with AMPTV's choice to send Iveta to Eurovision. I was really waiting for the song premiere, and as soon as I heard it, I had only one word in mind… WOW!"