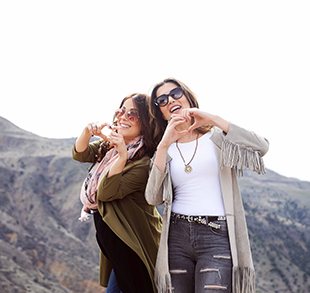 15.04.2016
Malta's Ira Losco visits Iveta Mukuchyan in Armenia
Ira Losco (representing Malta in Eurovision 2016) visited Iveta Mukuchyan in Armenia. After meeting Iveta during the Eurovision pre-party in Moscow, Ira decided to visit Armenia to learn more about the country – its people, culture and traditions.
"I had such a great time in Moscow's pre-party. This is where I met Iveta. I was seeing her for the first time, but as soon as we started talking, it seemed like we knew each other for many years. She is such a nice person - openhearted and kind. To be honest, I didn't think we would get so close in such a short time. But we share a lot of personal qualities and interests, so we instantly got along.
My visit to Armenia was fascinating. I loved the country, its rich culture, ethnic cuisine, the beautiful nature and of course the people, who were very kind and hospitable. I had a wonderful time" - says Ira Losco.
During her stay in Armenia, Ira visited some of most iconic places in the country, like ancient monastery "Geghard", "Garni" temple and the major sightseeings of Yerevan.
"I was so excited to see Ira in Armenia. We first met each other during the pre-party in Moscow and have been good friends ever since. She's such an amazing person. Beautiful, talented, strong. I truly admire her and the work she's doing as an artist. It was so much fun to chill with Ira and share with her my country's culture and traditions" - says Iveta.
The exclusive diary episode, featuring Ira and Iveta will premiere this Sunday via AMPTV and Iveta's official YouTube channel.