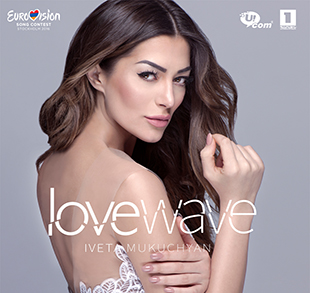 02.03.2016
Armenia's "LoveWave" premieres tonight!
Iveta Mukuchyan will represent Armenia in Eurovision 2016, with her deeply emotional song "LoveWave". It is bases on Iveta's inner world struggles and personal emotions.
"I wanted to sing about a feeling we all know and crave for. A feeling that creates and destroys, empowers and weakens, rips and completes. A feeling out of space and time, that is unpredictable as an ocean and powerful as a wave. A feeling that is worth fighting for. Love." – says Iveta.
The music video is artistically abstract. We see emotions instead of actions, through a non-scripted scenario the struggling inner world of the characters is revealed. Custom made macro shoots are used to "picture" the chemistry behind this feelings that spread through the whole body.
The song is produced by the Publiv TV Company of Armenia. It is composed by Lilith Navasardyan and Levon Navasardyan. Lyrics are written by Iveta Mukuchyan and Stephanie Crutchfield. The music video is a result of a co-production between AMPTV and German "BLACKSHEEP communications". It was created by:

Script/Art-Direction: Blacksheep Communications

Directing: Philipp Kaczmarek and Niko Kalozenski

Editing: Philip Wachsmann and Karen Melkumyan

Camera: Vincent Sommer, Bjoern Eyvind Eilertson, Karen Stepanyan

Visual Artwork: Bjoern Eyvind Eilertson

Microscope-Shots/Footage: Jan Bromann and Bjoern Eyvind Eilertson
It features Iveta Mukuchyan and Swedish top model Ben Dahlhaus, who is based in Germany and is most famous for his work with world leading fashion brands. The authentic looks used in the music video were created by Arevik Simonyan, the founder and chief designer of "Kivera Naynomis".