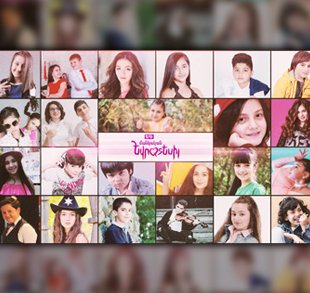 24.07.2018
23 participants of Depi Mankakan Evratesil are known
Months ago, the Public Television announced the start of a new project – Depi Mankakan Evratesil. For two months, the project crew had been receiving dozens of applications from Armenia and abroad. The participants of the project were chosen after the hearings. Now the names of the young people, who will present their original songs to the judgement of the audience and the jury, are known.
The following participants will compete in the project Depi Mankakan Evratesil: Anahit Arakelyan, Anna, Ani Mnatsakanyan, Arpi, Gor X, Eliza, Erik Antonyan, L.E.V.O.N., Harut Harutyunyan, Liana, Lily, Silva Grigoryan, Maria Petrosyan, Melisa, Vardan Margaryan, Nare Elizbaryan, Sati, Serzh Arakelyan, Vahagn Mesrobyan, Vova, "Secunda", "1+1", and "Yurahatuk".
The contest songs of the participants will be published in August on the YouTube page of the project.
The two semi-finals and the final concert of Depi Mankakan Evratesil will be aired on the First Channel in September.
The Junior Eurovision International Song Contest will take place in Minsk, Belarus on November 25.