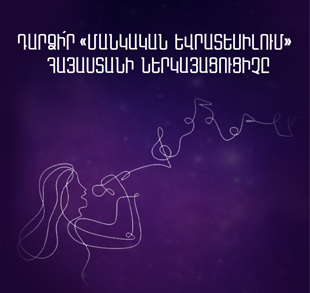 13.07.2022
Become Armenia's Representative in the Junior Eurovision
The First Channel announces a contest to select Armenia's representative to the Junior Eurovision 2022 to take place in Yerevan. The application has opened.
Children of minimum age 9 and maximum age 14 at the date of 11 December, 2022 may participate in the contest. Soloists, duets or bands consisting of maximum six participants may apply.
To participate in the contest applicants must register for the first stage of the hearings and perform live covers of two songs. Professional jury will select the winner from the applicants who proceed to the second stage. The winner will represent Armenia in the Junior Eurovision Song Contest.
To fill in the application of participation in the hearings please visit www.eurovision.am/hy/app until the deadline of August 1.
The Junior Eurovision Song Contest 2022 will take place on December 11 at K. Demirchyan Sport-Concert Complex.