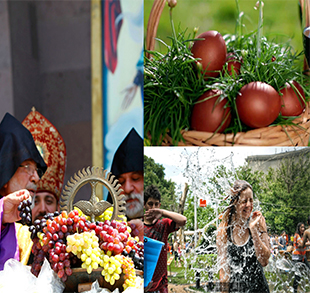 Traditions and Holidays
The Armenian people are known for their hospitality, warmth and peacefulness. The local people pleasantly surprise tourists with their sincerity and generosity. Respectfulness towards elders, regard and deference of them are also traditional for Armenians. Seniors play a significant role in the solution of important family issues and being a conservative nation Armenians inherited many traditions that are coming from centuries. Those traditions are exceptional and different from many cultures around the world.
In comparison to Catholic and Orthodox churches, that celebrate Christmas on December 25 and January 7, Armenian Apostolic Church celebrates Christmas on January 6.
Armenians celebrate National Army Day every January 28 since 1992 when Independent Armenia created its own armed forces.
Purification (Trndez) is celebrated on February 14 and according to religious custom this holiday is connected with the idea of coming forward to the Lord with fire, after 40 days of his birth. The main ceremony of Trndez is a bonfire, which symbolizes the coming of spring.
While lovers celebrate the day of St. Valentine on February 14, Armenia people have their love holiday devoted to their patron, St. Sargis.
Armenians celebrate day of Maternity and Beauty on 7th of April.
April 24 is the Commemoration day of the Armenian Genocide victims. Every year on April 24 Armenians from all over the world remember the 1.5 million victims of the 1915 genocide.
Armenians celebrate the day of Victory and Peace on May 9 which interestingly coincides with the liberation of Shushi, Nagorno-Kharabagh.
May 28 is the day of first Republic of Armenia and Armenians love to celebrate that day with joy and beautiful events throughout the whole country.
Vardavar (The feast of water) is the greatest holiday of the summer, which is celebrated 14 weeks after Easter. In pre-Christian Armenia this holiday was connected with pagan goddess Anahit to whose heathen temple the young and the old went to on pilgrimage. The word Vardavar has two meanings: "the flaming of the rose" and "to sprinkle with water". On the day of this holiday everybody pours water on one another and it is bringing a blessing.
Grape Blessing Day - this holiday is celebrated on the nearest Sunday of August 15. Catholicos of Armenian Church blesses the grape harvest.
Armenia celebrates the Independence Day on September 21. On that day Armenia was announced to be an independent country for the third time as a result of a national referendum on secession from Soviet Union in 1991.
In 1988 a disastrous earthquake killed thousands of people in Spitak and the surrounding regions. December 7 is officially announced Day of Remembrance of all the victims.
Traditions and customs of the Armenian people formed during many centuries. Temperamental and hot-tempered, but at the same time good-natured and open, Armenians are very affectionate of their children, strongly respect family values. Armenian family has always been remarkable for being firm, and even in the modern world's conditions Armenians manage to maintain their marriages firm thanks to strong family ties and mutual respect.
Wedding ceremonies, which still accompany most of the weddings, especially in villages, are considered one of the most beautiful ones. In the past, weddings used to last "7 days and 7 nights", however today their duration is much shorter. As a rule, young people got married with their parents' consent. Groom's parents get to visit bride's family and have a verbal arrangement – khosq oozel or khosq kapel before marriage. Armenians value the importance of getting married through church.
Oghi is Armenian vodka (beverage) made from fruits and berries. It is a clear fruit alcohol from mulberry, apricot, pear, grape, plum, blackberry, fig and apple. Oghi (vodka) made from home-garden grown fruits/berries and Armenians do not prefer calling it vodka. Oghi became popular during the Soiet regime in Armenia and is still well spread.