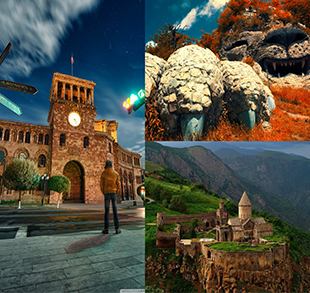 Armenia - Open Air Museum
Armenia – land of beautiful, unforgettable nature and kind people where one can sense the spirit of the ancient culture coming from centuries. The rich history and cultural heritage left its step on the world history. One of the steps is Christianity and around 1600 churches all over the world. One can never stop discovering Armenia and its treasures. This historical land is full of ancient sculptures and unique culture.
Mother See of Holy Echmiadzin is headquartering the Armenian Church and is the Mother Cathedralof all Armenians. It was originally built in 303 and was restored only in 1441 and remains as such till today. The Cathedral is a unique architectural treasure along with its spiritual significance. It is registered in UNESCO World Heritage List.

Geghard is a medieval monastery situated in Kotayk province in Armenia. The Monastery is partially craved out of the adjacent mountain and is surrounded by cliffs. It is registered in UNESCO World Heritage List.

Zvartnots Cathedral is an Armenian Cathedral built in the 7th century. Zvartnots remained standing until the 10th century and the ruins remained buried until the start of the 20th century. In 2000 Zvatrnots was added to the List of UNESCO World Heritage.

Haghpat Monastery is also known as Haghpatavank is a medieval Armenian Monastery complex build in the 10the century; interestingly Monastery Sanahis was built around that time nearby Hahpatavank. Both Monasteries were built up the hillside away from common public sectorsurrounded with mountains. Described as a masterpiece of religious architecture and a center of learning, Haghpat Monastery, along with Sanahin Monastery, are placed in UNESCO World Heritage List.

Tatev Monastery in Armenia is a 9th century wonder located on a large basalt plateau in southeast Armenia. The Monastery stands on the edge of a deep gorge of the Vorotan River and served as an economic, political, spiritual and cultural center throughout the Armenian history. Tatev is also known as the home of the world's longest non-stop double track cable car (ropeway). In October 2010 it was included in the Guinness World Record Book.

Lake Sevan is the largest lake in Armenia and the Caucuses region being one of the largest fresh water high-altitude lakes in the world. The monastery Sevanavank was built on an island in Lake Sevan; however the island transformed to a peninsula.

Khor Veerap is an Armenian Apostolic Church monastery isolated in the Ararat Valley, Armenia. The building is very close to the border of Turkey and was the prison of Grigor the Illustrator who was locked there for 14 years before Armenia adopted Christianity in 301.

Reading books and watching photos/videos about Armenia is not enough to feel the real Armenia. Whenever you are putting together a travel list of countries make sure to put Armenia in your top 5. One should be in Armenia, walk around the ancient land full of magical sights and history, to learn not only about Armenia, but also world's history.