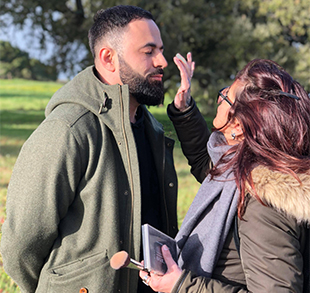 13.04.2018
Sevak Khanagyan starts shooting Eurovision postcard
The shooting of the postcard for Armenia's delegate to the Eurovision 2018 Sevak Khanagyan has started in the host country Portugal. This year, Eurovision postcards, broadcast before the performance of the participants, will portray sights, historic inheritance and art of Portugal with the help of the participants.
"I'm very happy to have the opportunity to be here before the contest. Of course, the shooting lasts for only a day, but I managed to get acquainted with the Portuguese culture. The idea for the postcards is also very interesting, and I believe the audience will like it. As soon as the shooting is done, I will leave for Amsterdam to participate in a big pre-Eurovision concert," said Sevak Khanagyan.
On April 7, Sevak started his Eurovision promo tour. He has already performed during concerts in Moscow and Tel Aviv. This week, Sevak Khanagyan will perform in Amsterdam, on April 21 – in Madrid.