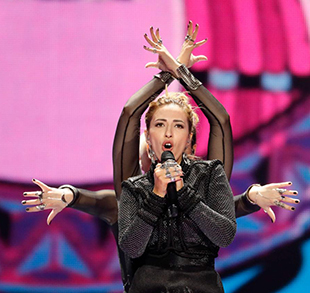 12.05.2017
Artsvik will perform 5th at ESC Grand Final
Eurovision 2017 Song Contest Grand Final will take place in Kiev, Ukraine, on May 13: the running order for Armenian delegate Artsvik is 05.
The running order for the rest of representatives during the Final is as follows: Israel, Poland, Belarus, Austria, Armenia, The Netherlands, Moldova, Hungary, Italy, Denmark, Portugal, Azerbaijan, Croatia, Australia, Greece, Spain, Norway, United Kingdom, Cyprus, Romania, Germany, Ukraine, Belgium, Sweden, Bulgaria and France.
Armenian delegate Artsvik will today participate in two main rehearsals prior to the Grand Final, with jury members assessing the second rehearsal.
The Contest finalist will be determined as a result of professional jury and sms voting, in the ratio 50/50.
Pan-European Song Contest Grand Final will livestream via Public TV and Public Radio at 11 p.m., May 13. First Channel hosts Avet Barseghyan and Gohar Gasparyan will be presenters again, while Armenia's representative at Eurovision 2017 Iveta Mukuchyan will announce our points.
More details available at www.1tv.am, www.eurovision.am , as well as through Artsvik's official pages at Facebook, Instagram, Twitter.