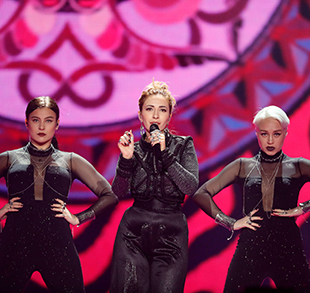 10.05.2017
Armenia qualified for Eurovision 2017 Grand Final
"Eurovision 2017" first semifinal took place in the capital of Ukraine Kiev, with Artsvik presenting Armenia. As a result of professional jury and sms voting Artsvik received a spot in the Grand Final and she will continue her struggle on May 13. Other contestants that were qualified for the Grand Final are representatives from Moldova, Greece, Sweden, Portugal, Poland, Australia, Cyprus, Azerbaijan and Belgium.
"I express infinite gratitude to all those who are now standing by my side, supporting me at this most important stage in my life. Now I get to fully understand the honor and responsibility of presenting an entire homeland, and, most importantly, I do know for sure you don't need wings for a real flight", Artsvik said.
Public TV Company and Public Radio will livestream the Grand Final at 11 p.m. on May 13
Similar to the semifinal, this time again hosts Gohar Gasparyan and Avet Barseghyan will be presenters for the Grand Final, while Armenia's delegate at Eurovision 2016 Iveta Mukuchyan will announce our points.