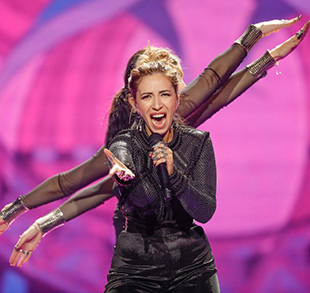 05.05.2017
Armenian symbols at Eurovision 2017: Artsvik's second Eurovision rehearsal took place
Today Armenian delegate at Eurovision 2017 has her second rehearsal in Kiev, Ukraine. Unlike the previous one, second rehearsal reveals some details on the performance and the symbols being used.
A decision has been made by Public TV Company creative team, according to which during this year's performance at Eurovison, LED screens will display modern interpretations of Armenian ornamental arts and bird images, presented in new color solutions symbolizing the origin of Artsvik's name and her entry song title "Fly With Me".
Armenian ornaments are the vivid illustration of Armenian's national identity. Being the witness for century-long dialogue between east and West, Armenian ornamental art is the carrier of the two cultures, which will be presented on Eurovision stage.
During the performance Artsvik will be accompanied by three backing vocals and dancers who will attempt to replicate a bird's movements. You can watch the "Flight" via livestreaming on May 9.
Following the rehearsal Artsvik met with international media representatives in charge of Eurovision coverage, and answered their questions.
To recap, Armenia's delegate at Eurovision 2017 Artsvik's song was considered the best during the first rehearsal, receiving the maximum of 100 points.
Armenian delegate at Eurovision 2017 is the winner of First Channel "Depi Evratesil" contest Artsvik. This year's contest will be held on May 9, 11 and 13 in Kiev, Ukraine. Artsvik will perform under number 16 during the First Semi Final on May 9.
More details available at www.1tv.am, www.eurovision.am, as well as at Artsvik's official pages at Facebook, Instagram, Twitter.