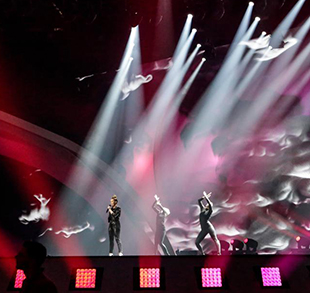 02.05.2017
Artsvik starts Eurovision flight: First reviews from Kiev
Armenian delegate at "Eurovision 2017" Artsvik partook in Eurovision first rehearsal and is quite excited now. "Can't find the right words to convey my feelings. I have long dreamt about this moment, still back then when filling in the application for participation in "Depi Evratesil" project. Everything is so impressive now. I get wings while on stage, realizing I am the one to represent my country", Artsvik said.
Media representatives in charge of coverage for Eurovision events rated Armenian delegate's rehearsal the best, receiving maximum 100 points. "I am grateful to everyone for their votes and support. It was indeed a pleasant surprise to me", Artsvik mentioned.
The next rehearsal is scheduled on May 5th. Today Artsvik will participate in the second half of Eurovision postcard shooting, while on May 4th she will meet with Armenian community in Ukraine.
Armenian representative at Eurovision 2017 is First Channel project "Depi Evratesil" winner Artsvik. The contest will take place on May 9, 11 and 13 in Kiev. Arsvik will perform 16th during the first Semi-Final scheduled on May 9.
For more details visit www.1tv.am, www.eurovision.am, as well as Artsvik's official webpages at Facebook, Instagram, Twitter.