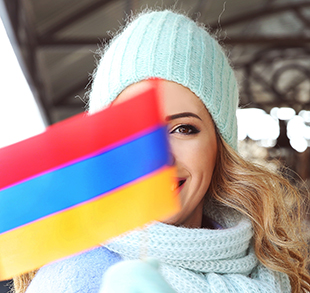 09.03.2017
"FLY WITH ME" Artsvik's song premieres on March 18
On December 25, 2016, Public TV Company of Armenia (AMPTV) announced an open competition for Artsvik's entry song at Eurovision Song Contest 2017. More than 300 composers and songwriters from all over the world submitted their works, but only 10 songs were shortlisted. After a careful consideration, AMPTV's creative team, together with Artsvik made their choice.
"Fly with me" was composed by Lilith and Levon Navasardyan, who are known to Eurovision fans for Aram MP3's "Not alone", Mika's "Love" and Iveta Mukuchyan's "LoveWave". Lyrics were written by Avet Barseghyan and David Tserunyan.
Both music and lyrics are inspired by this year's slogan "Celebrate Diversity", featuring folk and traditional rhythms and elements not only from Armenia, but also from Europe, Africa and even Asia, "Fly with me" comes to showcase the beauty of diversity and proves that our stories and voices are the vivid colors of this world.
"My song tells a story of a girl, who is the metaphorical symbol of love. She embodies the colors, the stories and the voices that make us who we are. "Fly with me" encourages everyone to come with me on this girl's journey of championing the diverse and beautiful human nature. I think nowadays it is especially important to embrace our heritage and our traditions. We, the people - our colors, our stories and our voices make up this world. We must never forget that this girl's light and love is one for all of us", Artsvik says.