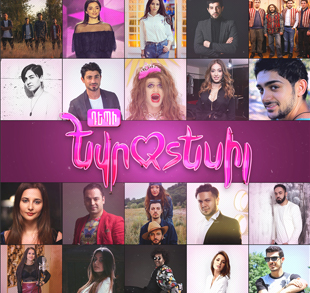 27.12.2017
20 participants will compete in the new season of "Depi Evratesil"
After receiving more than 100 applications from Armenia and all over the world, the Public TV Company of Armenia is excited to announce the names of the 20 artists, who will compete in the new season of "Depi Evratesil"!
Here they are:
Robert Koloyan, Sevak Khanaghyan, Suren Poghosyan, Mger Armenia, Tyom, Zhanna Davtyan, Hayk Kasparov, Gevorg Harutyunyan, Maria's Secret, Hasmik Shiroyan, Angel, Amaliya Margaryan, Tamar Kaprelian, Lusine Mardanyan, Arman Mesropyan, Mariam, Kamil, "Nemra", "Alternative" and "Gata" bands.
This year, the contest will feature 3 stages of selection: the live shows, the semi-final and the grand finale. The artists will present their original songs during the shows, where the result will be decided by the international jury and the viewers at home. The winner of "Depi Evratesil" will get a chance to represent Armenia at the Eurovision Song Contest 2018!
The competing songs will be available on our official YouTube channel in January. The first live show will air on February 3.
More information about our contestants will be available soon at www.eurovision.am .